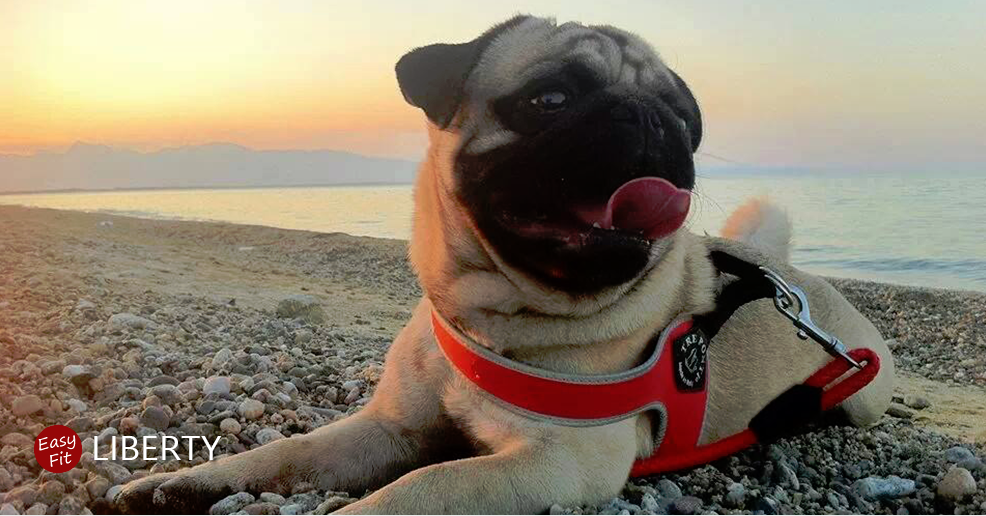 Liberty Harness
Adjustable Belly Liberty
Mesh Regular Color
Mesh Neon Harnesses
Mesh Neon Adjustable Belly
Tre Ponti Dog Harness
Due to issues with the distributor we no longer sell Tre Ponti.  However we have another brand that is virtually identical with the amount of straps and ease of use.  Click here to check this one out. 
With a Tre Ponti Dog Harness you will save your dog from ocular (eye) pressure, matted fur, armpit blisters, restricted gait and joint pain by getting your Tre Ponti Dog Harness today!  
Why all the buzz about the Tre Ponti Harness? It's simple. Tre Ponti has re-engineered the dog harness. The result is an ergonomic design that makes taking walks easy for you and a pleasure for your dog.
Easy Fit — for easier walks. Tre Ponti harnesses are simple and easy to use. The Easy Fit design looks like a boomerang with the center cut out. You place your dog's front legs into this center opening, then simply pull the ends up and fasten them at the dog's back. The result is a smooth band across the chest and another around the rib cage. There are no "armpit" straps to cause chafing, and the chest band stays put so it won't choke the dog. If getting ready for walks is a struggle at your house, the Tre Ponti harness can end the fuss. Easy Fit harnesses come in a range of sizes based on weight or breed, as well as in colors to match your mood — or your dog's.
The Forza — for when the tough get pulling. If tugging at the lead is an issue, the Forza Tre Ponti Harness will make walks safer for you and your dog. The Forza harness tightens when the dog pulls, giving an immediate signal that does not harm or frighten the dog. It loosens again as soon as the pulling stops, giving your pet feedback to let her know she's done the right thing. The Forza can be used to train your dog not to pull at the lead.
Top quality and ergonomic design. These are top quality harnesses designed and handmade in Italy. The construction eliminates sore spots and chafing. Materials are selected to prevent matting and give your dog maximum comfort. There are no straps through the armpits to irritate the skin. When it comes to dogs, there's no such thing as one size fits all. Tre Ponti's offerings includes harnesses with adjustable belly straps for broad-chested or heavier breeds. Their large breed harness is made to keep the chest band from riding up; a common problem with big, powerful dogs. Tre Ponti harnesses have been used by European dog owners for years. Now they are available in America. We are very proud to be able to offer them to our customers. Click here to see how stylish they look on our own Jack Russell and Yorkshire Terrier. You'll like them as much as we do!