News
Posted by David Hallum on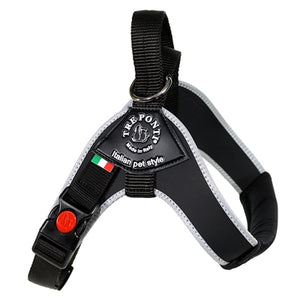 We have heard your feedback and we think we may have an awesome improvement for the Tre Ponti harnesses.  If you have purchased a Tre Ponti in the past and had to return due to sizing issue, please see the new sizing charts below and let us know in either the comments below or via email info@reallygoodpetsshop.com that the new sizing charts are more accurate or not for your dog.   Please Answer the questions below that pertains to you in the comments.  Leave in the comments the style of harness you got, size and weight of your dog, what size...
Posted by David Hallum on
As I am sure that most of you have heard or seen, we became a dealer for Tre Ponti Dog Harnesses!  We are so excited at this opportunity.  We are the ONLY online store that carries Tre Ponti Dog Harnesses in the United States and we feel proud to be bringing quality harnesses to dogs.  Switching to a harness and especially a Tre Ponti Harness, literally is saving the dog's eyes, throat, glands, and brain function.  More and more research is coming out that switching to a harness is paramount to the health of your dog.  We LOVE this brand...
Posted by David Hallum on
Wow!  It was a crazy busy month of July for us here at Really Good Pets Shop.  We changed review gathering procedures, got more followers on social media, and dog training exploded!   We started offering sport team apparel for dogs, cookies, and more collars are coming soon to the store.   We also welcomed a new blog writer to Really Good Pets Shop.  In one word she is AWESOME.  Reading her blog posts are like taking miniature vacations that I come out knowing a little more about dogs and life. We are going to our first Doggy Show so...
Posted by David Hallum on
Greater New York City, Fairfield County Connecticut areas: www.committedcanines.com Virginia, Roanoke and the surrounding areas: The Well Trained Dog Kansas, Topeka and the surrounding areas: EliteDutchK9.Com Idaho, Boise and the surrounding area: www.off-the-leash-training.com Texas, Dallas and the surrounding area: www.caninesolutionsdallas.co   Illinois, Chicago and the surrounding area: www.pawsomedogs.net Dog Artist incessantmemories.artistwebsites.com
Posted by David Hallum on
My Jack Russell named Rowdy was always eating too fast.  As soon as he would do his "trick" (sit and stay) and I placed the bowl on the floor… it was full on scarf-the-food-down-like-you-will-never-be-fed-again-time!  This would have been all fine and dandy had he not immediately started hacking, chocking or vomiting after he finished.  We love our pets like our children and when you see them slam the food down like me going to the bread cart after a 10 day flush diet, it makes us worry about them.  We fret and think; gosh if only you would slow down...
---