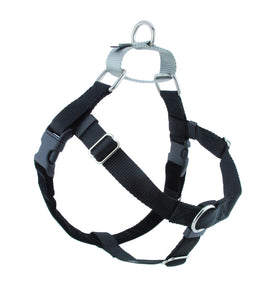 Freedom No Pull Harness Only
Stop having your your arm yanked out of socket! It's time for a new way to walk your dog. No more coughing and hacking while your dog attempts to take you on his own version of tug of war with the other end of the leash. The Freedom Harness and leash is exactly what you need.
This product includes the Harness ONLY!!!  Purchase this if you need to replace your harness only. The Freedom Training Leash is not included with this.  If you are new to Freedom No Pull Harness, we suggest you get the training package that includes the leash with the harness.  Click Here to view the package.
PLEASE, sign up for our newsletter while checking out so you can be sent the free training videos that come with your purchase from the owner (a certified and nationally known Dog Trainer) David Hallum.  In these videos, the Dog Trainer will show you how you can use the Freedom No Pull Harness to your maximum benefit.
Sizing Guide: