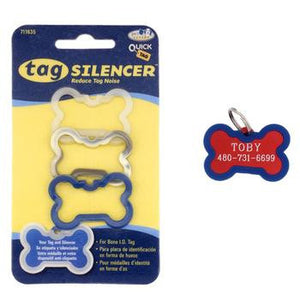 Bone Pet Tag Silencer 3 Pack
Give your tags silence with the Bone Pet Tag Silencer for the Engravable Pet I.D. Tag!
Three Pack
Fits bone shape quick tag
Protects engraving
Why We Love It:
The Bone Pet Tag Silencer will cut back the noise when pets are prowling at night. Tag glows in the dark and made of PVC. Silencer helps to protect engraving from getting scratched up. Three pack includes a Blue, Camoflauge, and a Glow in the Dark.
dog tag silencers
5 star
Bone Pet Tag Silencer 3 Pack